SPSW researchers share best practice at The International Expert Meeting for Care Leaving in Europe
Posted on 15 January 2018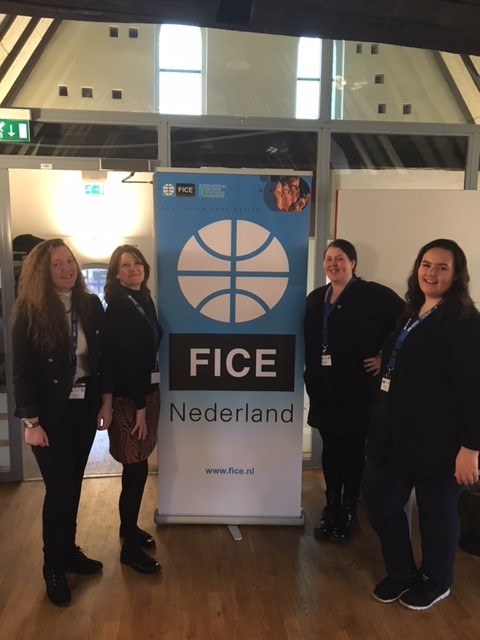 The conference was held in Amersfoort, Netherlands in November 2017, and gave young participants an opportunity to deliver individual presentations as well as taking part in a Q&A with delegates. Jo Dixon and Jade Ward were accompanied by Amy M and Amy H, who attended as youth representatives from the UK, and have both participated in current studies with Jo and Jade. Amy M shared her experiences as part of the Bright Futures project, including taking part in a 6-week placement with the evaluation team at the University. Amy H spoke about working with the Mental Health Project in North Yorkshire and shared her talking head video looking at improving mental health support.
The youth exchange was arranged by FICE Netherlands, Erasmus and Kinder Perspectief, and attended by care leavers and professionals from Serbia, Ireland, Germany, Spain, Austria, Netherlands and England. The exchange aimed to bring together young people from across Europe to share best practice from their countries in relation to leaving care.
In the days leading up to the conference, a residential was held in Ortvelte, where young people and professionals from participating countries came together to share current work and brainstorm ideas to make leaving care a positive experience for young people across Europe. The participants worked together throughout the three-day period to produce information for the Leaving Care in Europe website, launched at the conference on the final day.
Both Amy's had positive thoughts on the exhange: "The conference is one of the most memorable experiences of my life to date. Everyone was so passionate and engaged in fighting for a common cause. I learnt about so many different cultures and experiences. I learnt about the importance of sharing ideas. I learnt that all the countries have a lot in common in terms of the problems of care leavers but their fundamental differences were their approaches to solving these problems."
"I have come to realise that my voice is just as valuable as my peers. It has made me realise that I create change now rather than waiting for someone else to do it. It has also made me feel connected to other cultures because no matter where another person is from I know that I'll always find something in common with them. It has generally enhanced my debating, critical thinking, leadership and problem-solving abilities which I will carry with me for the rest of my life."
"The best part of the conference for me was getting to meet so many inspirational young people from other countries, and that they were willing to share their experiences of the leaving care system. as I'm still being a care leaver I need to realise that I can't always expect someone to pick up the phone when I need help and advice and that I can wait for them to ring me back when they are free. I also now realise that I am very lucky to have the support from the leaving care system in the first place."