In an increasingly competitive job market, completing a year in industry helps you stand out to potential graduate employers. You will have the benefit of having professional work experience on your cv as well as being able to test-drive potential career paths before finishing your degree.
Overview
Completing a placement year is a great way to get industry experience, allowing you to apply your studies in a professional context.
You'll be able to apply for a placement year if you're on one of the following courses:
The placement takes place between the second and third years of your degree, and usually last between 9 and 12 months.
You'll need to pursure and secure a placement by yourself, although we'll support you through the process. Placements aren't guaranteed - if you don't manage to secure one, you'll just progress to the third year of your studies as normal.
Our Placement Coordinator
How we help you: our dedicated Placement Coordinator
The School of PPE has a full-time dedicated Placement Coordinator, Charlie King, who will help you to prepare you for your year in industry, as well as helping you find a suitable placement.
Charlie can be contacted via email
The department is always available to offer you advice and guidance in the following areas:
how to search for opportunities and approach organisations in the field
writing applications and CVs
how to prepare for assessment centres and interviews.
We also provide:
Placement Lectures: Which are embedded into students' timetables covering key areas of finding and securing a placement.
Industry led sessions: Spot light careers sessions that are delivered by organisations that recruit politics students.
Keep in touch events: We put on events throughout the year in conjunction with the University's Central Placement programme so that you can meet and network with other students seeking a placement year.
Daily Drop-In Sessions: Where students can arrange one-to-one appointments to discuss any aspect of their placement search with our Placement Coordinator. These include help with placement search, support with CV preparation, application guidance and interview advice and guidance.
On Placement Support: We will support you whilst you are on placement. This includes providing a through pre departure process and providing support and visits to you and your employer whilst you are on the placement.
Why do a placement year?
The benefits of completing a placement year
The placement provides you with an opportunity to gain experience in a wide range of fields while putting your academic learning into practice. You could apply to roles that are related to your degree, such as the House of Commons Placement Scheme or a placement with Yougov, or to a business-related placement in a wide variety of organisations and industries.
A placement will enable you to develop considerably, both personally and professionally. You'll increase your confidence and gain transferable skills such as:
communication and interpersonal skills
team-working and independent working skills
You'll also begin to build up a professional network and gain valuable awareness of workplace culture.
As employers place significant emphasis on all of the above in their recruitment, completing a placement year will enable you to boost your employability and have an edge when applying for graduate-level roles.
Fees
Fees for your year in industry
You'll pay a reduced tuition fee when you're on a year in industry. For more information, visit the University's fees and funding page.
"The department were amazing. They were supportive and regularly sent current job openings as well as met with me often to see how I was getting on with my search. They made it all seem normal. Like I wasn't about to embark on a huge life-changing experience. I think that was the most important thing for me. Whilst I knew it would be a big thing, I also knew it was the right thing and the university supported me through the whole search and beyond" Scott Milestone BA Politics placement student
Testimonials
Laura Rodriguez, BA Philosophy, Politics and Economics (with a placement year)
Organisation: DAI
Role: Business Development Intern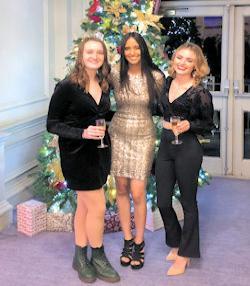 Why did you choose to pursue a placement as part of your studies?
One of the things organisations value the most once you've graduated from university is the experience and skills you will bring. As an undergraduate, and as a recent graduate, experience is quite difficult to obtain, and processes are very competitive. A placement year is an amazing opportunity to gain valuable skills, experience and create a network of contacts to go back once you've graduated. In addition, I went into my degree because I have been involved in international politics and international development since I was 13, but I was not really sure how that translated into a career path. This placement has cleared this question for me, and now I am confident of what I want to do, and how to get there, when I graduate in 2021.
How did the department help you in your search?
There was no step in my placement process where Charlie King (from politics) and Lucy Brookes (from Careers and Placements) were not present. For every single opportunity I applied to, Charlie reviewed my application to make sure it fit the profile. When I got invited to interviews from my applications, Lucy gave me a mock-interview me to help me prepare, and Charlie helped me think of possible questions they might ask. Their support was really invaluable, and it helped me to better understand the application process. Regarding the search in itself the placements jobs board was my go-to, as it was tailored for development and politics. I was subscribed to multiple job-searching platforms (indeed, rate my placement, prospects, etc.)
Can you give some examples of projects you are/have been involved in?
The last bid I worked on was on cybersecurity, looking to strengthen the cybersecurity capacity of five countries (Indonesia, Kenya, South Africa, Nigeria and Brazil) using as a starting point the Capacity Maturity Model for CS. In here, I was given the responsibility of "bid director" towards the end of the proposal, as my line manager was going to be away traveling for work on the day the proposal was to be submitted. I attended meetings with EY, our partner, to write the technical proposal, wrote some sections of the proposal, collected and collated inputs from team members, formatted CVs and managed communications with EY.
How is the placement developing your skills and employability?
Every single day I learn something new. I have learned about how proposals and the bid process in general work, I have improved my writing skills (business writing, in particular), I have been given a lot of responsibility that requires me to manage my time efficiently and make the most productive use of it and I have (and I am working towards this everyday) a valuable network of contacts.
What are you enjoying most about the placement?
The top things I enjoy the most are definitely the people who work at the organisation, the workplace culture and the amount of responsibility and trust I am given. There is a very strong feeling of community, and people are always willing to help you, even when they have a lot of work themselves. We have fruit every Monday and Friday, cake on Fridays and breakfast on the last Friday of the month. It is very refreshing.
Owen Lingard, Philosophy, Politics and Economics (with a placement year)
Organisation: British Airways
Role: Business Placement
Why did you choose to pursue a placement as part of your studies?
I saw this as an opportunity to gain some experience in a new area, have a challenge and contribute to the company, whilst also working out what works for me in the world of work. Ideally, I'd love to come back to BA again after my placement has finished.
How did you find out about the placement you secured?
I used a website called RateMyPlacement, which allows you to search for insight day, internship and placement year vacancies. It also features reviews for companies from previous placement year students, so you really know what you're getting in to.
How did the department help you in your search?
The department advertised a number of placement vacancies and promoted support from the careers team, who were absolutely fantastic throughout.
What activities are you involved in day to day?
I'm placed in the management team for Loading at Heathrow Terminal 5, which means that I work with the several hundred colleagues involved in loading and unloading baggage and cargo from an aircraft. More specifically, I'm involved in a variety of tasks in a typical day - from responding to an email to coordinate new safety footwear trials, attending a formal meeting with our trade union, investigating aircraft delays or meeting a new potential supplier for hi-vis clothing. I'm busy 24/7, and have to ensure that I can balance my stream of incoming emails with whatever task is in front of me at the time.
Can you give some examples of projects you are/have been involved in?
Recently I've been covering one of our operational managers, which involves having oversight of all loading activities in Terminal 5 for the duration of a shift. I've been coming in at 04:15, speaking to our Integrated Ramp Supervisors when they incur a delay and then dealing with any equipment outages, accidents etc as they arise. More broadly, I've taken responsibility for Personal Protective Equipment (PPE) for around 650 colleagues in Loading so have to meet suppliers, negotiate prices, submit orders (and take the complaints if we ever run out!).
How is the placement developing your skills and employability?
I'm glad that I'm in an operational role as you really are accountable to everyone you work with. If you make a mistake, you're potentially going to disrupt an entire department or delay a flight. Because of this, you have to learn to be honest with yourselves and others about what you can and can't do. If you need help, you have to ask for it. I'm hoping this will help to develop my approach to work more broadly and stand me in good stead for my future work ethic.
What are you enjoying most about the placement?
T5 Loading is a massively multi-cultural department, so I'm loving learning a lot of new words and trying out some exotic dishes.
What advice would you give to future students seeking a placement?
Absolutely go for it. There's no way doing a placement can do anything but enhance your future employability! I get a little frustrated when people say 'Just do anything, it'll look good on your CV'. The point of a placement is to develop yourself as well as give back to the company you're placed at. It's not some sort of meaningless trophy to be broadcast on LinkedIn - it's a real opportunity to make changes to an individual, department or company. Try applying for an industry you've never even considered before, don't know much about or fancy working at but don't see yourself in long term. It's a great chance to try something new and give yourself a real challenge before you settle into a job you've been preparing for for the past three years. Just make sure you do your research before the interview!