Materials Quantum Dynamics workshop

‌

‌

21-23 March 2016, Berrick Saul building, University of York ‌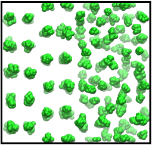 ‌
Organised by Universities of Durham, Newcastle and York
Sponsors: University of York and EPSRC

A 3-day workshop on Materials Quantum Dynamics will take place at the University of York on 21-23 March 2016 (including tutorial lectures for graduate students). As well as talks and posters from the three universities involved, there is an exciting array of distinguished external invited speakers. The workshop is entirely free of charge. For accepted participants from the Universities of Durham and Newcastle, travel and accommodation will be funded by the workshop.

The focus is on the broad field of computational modelling, simulation and theory of any processes in materials and nanostructures in which electrons are excited out of their ground state, or in which the motion of ions within the material is quantum and not classical. Related experimental papers are also welcome at the workshop.

Registration is required for all participants (including those from University of York) and is now open. To register, follow this link. The deadline for registration is Friday 11 March. Registration by Friday 4 March is recommended to ensure the most convenient accommodation.
Following submission of your application, the organisers will contact you by e-mail to confirm whether your participation (and talk and/or poster, where applicable) has been accepted.

Keynote Speakers:

Professor Ali Alavi, University of Cambridge and Max Planck Institute for Solid State Research, Stuttgart

Professor Eberhard Gross, Max Planck Institute of Microstructure Physics, Halle

Dr Chris Kriton-Skylaris, University of Southampton

Professor Neepa Maitra, Hunter College of the City University of New York

Professor Richard Needs, University of Cambridge

Professor Michele Parrinello, ETH Zürich

Professor Mike Payne, University of Cambridge

Dr Lucia Reining, École Polytechnique, Palaiseau
Schedule: 12:00 Monday 21 March to 14:00 Wednesday 23 March 2016
The workshop is the first step towards the establishment of a permanent Centre for Materials Quantum Dynamics (CMQD) by the Universities of Durham, Newcastle and York.

CMQD steering group and workshop organisers: Stewart Clark, Nikitas Gidopoulos, David Tozer (Durham); Werner Hofer (Newcastle); Rex Godby, Matt Probert (York)

Contact: Rex Godby