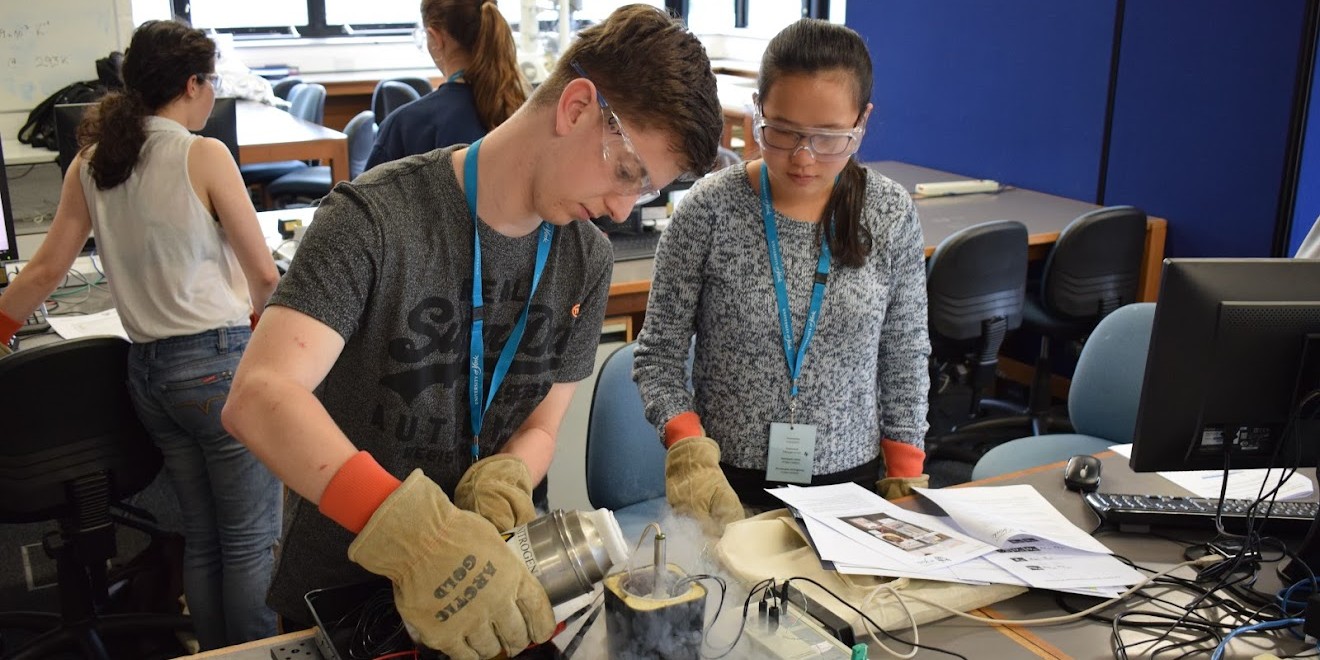 Year 12 Work Experience
Join us for physics or engineering Work Experience at a world-leading university. Be inspired by fascinating research, speak with current students, and get a closer look at our laboratories and facilities.
What can I expect from the programme?
This work experience week will give you a flavour of what it's like to study at a Russell Group university. It's your chance to explore fascinating topics and meet experts in their fields.
This is a hybrid work experience programme: Monday to Thursday will be online, and on the Friday you'll spend the day here, at the University of York campus. You can choose to focus on physics or engineering, or pursue a combination of both. This programme is open to anyone in the UK.
The work experience programme takes place from Monday 24 July - Friday 28 July 2023.
During the online programme you will:
develop research skills
attend lectures delivered by University of York academics
undertake a project supervised by a researcher on a cutting-edge topic you're interested in
produce a university-style poster that you will present at an online conference.
You will be supported with a live forum to enable you to ask questions on a daily basis. You'll also have the opportunity to talk to current physics and engineering undergraduate students, and have the chance to ask their about their courses and life at university. There will be one to three hours of interactive activity each day, and you will be expected to work independently on your project outside these times.
Then at the end of the week, join us in person to get hands-on with physics experiments and/or engineering problem-solving and tour research and teaching facilities.
Applications have now closed for the 2023 work experience and all candidates have been contacted.
If you applied for this programme and have not received an email, we suggest that you check your spam folder. If you are still unable to locate our message, then contact us at pet-outreach@york.ac.uk.
The work experience programme is only open to students in year 12 (aged 16-17) during academic year 2022/23.
In-person work experience is available for year 10/11 students for those living within travelling distance of the University of York. Further details are available here.
From Monday to Thursday the work experience will take place online. You'll need to do some work on your own at home too, outside of the online taught sessions.
On Friday you will attend a day of activities on the University of York campus. Travel bursaries will be available to those meeting our access criteria.
The deadline for applications is Sunday 19th March 2023.
You'll be notified whether you have a place after Wednesday 29th March 2023.
The work experience week takes place from Monday 24th July to Friday 28th July 2023.
Monday 24th July 2023 to Thursday 27th July are online.
Friday 28th July 2023 is in person, at the University of York.
Interview academic staff and researchers to find out about their cutting edge research

Work on a mini research project to produce a research poster

Learn skills that will prepare you for university

Talk to undergraduates to learn more about studying at university

Present your work at a showcase conference
Here's a sample schedule for the week
| | | | |
| --- | --- | --- | --- |
| | 9.30am | 11am | 2pm |
| Monday | Introduction: Exploring Physics and Engineering | Research skills session | Meet the researcher |
| Tuesday | How to make an academic poster | Lecture | Meet the researcher |
| Wednesday | Ask an Undergrad | Lecture | Exploring careers |
| Thursday | Poster submission / lecture | Lecture | Poster conference |
| Friday | Lab tour | Experimental activity | Demo lecture |
A more comprehensive schedule and links to online sessions will be provided to successful candidates.
The work experience programme is a combination of both physics and engineering, but you can tailor it to your specific interests.
You will read descriptions of the available projects and rank your top choices, allowing you to opt for a physics based topic, or an engineering one as you prefer.
In addition, the online lectures are optional, so you can choose to attend the ones that align with you interests. Or you can attend them all!
You will also be given options for the in-person day at the University of York, so you can find out more about physics, engineering, or both!
Much of the course can be accessed on a phone or tablet, although a PC or laptop will certainly help if you have access to one.
You will need a PC or laptop to create your conference style poster. If you do not have access to one, please email pet-outreach@york.ac.uk and we will do our best to support you.
All online sessions will be conducted via Zoom. On some devices you'll need to download the Zoom app.
We recommend having a notepad and pen to hand, and a scientific calculator. If you don't have one, you could use Google's version here.
Yes. After completing the week's activities and presenting your poster at our mini conference, you will receive a certificate of recognition from the University of York. You can refer to this, and what you have learned from the week, on your UCAS form.
On Friday 28th July you will attend an in-person day at the University of York.
The city of York is well connected by train and bus. Once in York, you can reach our campus via a regular bus service from the city centre.
Find out more about getting to the campus.
A small number of travel bursaries will be available to eligible students. These will be awarded on a case-by-case basis and will be offered if you are awarded a place on the work experience programme.
Applications for the 2023 programme have now closed.
Places on the programme will be allocated based on widening participation criteria and the response to the question 'Why would you like to complete work experience at the University of York?'. Make sure you read the guidance given and ask us if you have any questions by emailing pet-outreach@york.ac.uk.