Open-source LTE network for mountain search and rescue trial on Campus West rugby pitch
Posted on 16 June 2021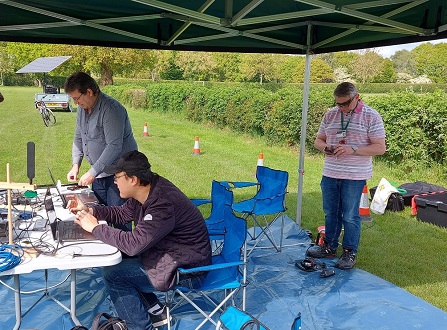 A light-weight private LTE network was set up at the site using a credit card size software defined radio and a laptop, with the Internet backhaul provided by a commercial LTE router.
A team led by David Lund from Safenetics joined the field trial with ruggedised handsets with push-to-talk, push-to-video and group chat/video functions to assist the mountain search and rescue tasks.
These functions have been tested across handsets connected to several different networks, including a private LTE network, WiFi hotspot from a smartphone, and the WiFi network from the commercial LTE router. This was the first open-source LTE network field trial for the MANY project at York, with future plans to extend operations to a private LTE/5G network from a Helikite to provide coverage for temporary events.