York academics attend ITHET 2018 conference
Posted on 14 May 2018
The 17th International Conference on Information Technology Based Higher Education and Training (ITHET 2018), held in Olhao, Portugal, took place on 26-28 April, 2018. The University of York's, Professor Tony Ward of the Department of Electronic Engineering, was invited to be a key note speaker at the conference while the University's Engineering Management Research Group won best paper.

Professor Tony Ward - keynote speaker
Professor Tony Ward's talk focused on the measurement of Generic skills among students in Higher Education and highlighted the issues of accuracy, reliability, rater bias and fatigue and certification in relation to public speaking as an exemplar.
The title of the winning paper was, Should Higher Education encourage the use of Intergroup Peer Assessment among students?. The authors include Dr Bidyut Baruah, Professor Tony Ward and Mr Noel Jackson. Peer assessment is an integral component for promoting active learning in Higher Education, it helps in facilitating an effective and collaborative learning environment among students.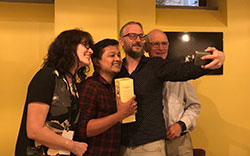 York's Engineering Management Research Groups
It also offers students a platform to learn from each other by receiving and giving critical feedback. A lot of researches have focused on the use of peer assessment in the grading of individual contributions of students in group work but very few studies have investigated the use of group peer assessment. The paper explores the effectiveness of intergroup peer assessment using a case study of the MSc Engineering Management programme at York (UK).
Learn more about International Conference on Information Technology Based Higher Education and Training

Discover Electronic Engineering courses available at the University of York