Department of Electronics students recognised as engineering rising stars by IET
Posted on 16 February 2017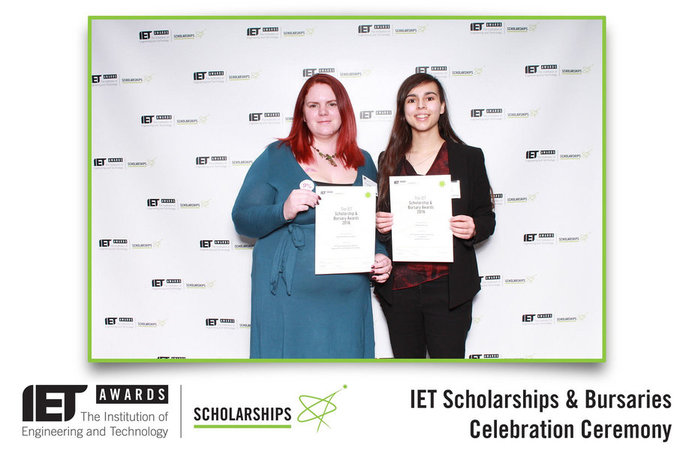 Heather Robinson is one of the 100 talented engineering students who have been awarded the prestigious IET Diamond Jubilee Scholarship, and Layla Graham is one of only 22 engineering students who has been awarded the IET Engineering Horizons Bursary scheme.
These awards provide each winner with financial support for their studies, as well as mentoring and work experience placements through the IET's extensive networks, in an attempt to close the ever growing skills gap which has increased for the ninth year running.
This year, 100 scholarships have been awarded to students who started either a Masters or an Undergraduate engineering degree at a UK based university in the autumn of 2016, and 51% of these have been awarded to female candidates.
Heather, winner of the Diamond Jubliee Scholarships said: "This scholarship gives me the perfect opportunity to develop connections and contacts within the engineering industry, and will give me a good idea of what life as an engineer entails. The UK is facing a shortage of engineers and I love having an opportunity to make a difference, especially in a field I am so enthusiastic about."
Jeremy Watson, IET President commented: "In a world where technology is moving faster than ever before, I believe we need to think more broadly and remove unnecessary barriers that might be discouraging more young people from becoming engineers. In other words, we need to be more inclusive about inspiring and recruiting the next generation of engineers.
Heather and Layla received their awards at the IET Scholarships and Bursaries Celebration Ceremony in London on 15th February 2017.
Prospective students who are wishing to apply for a Diamond Jubilee Scholarship or Engineering Horizons Bursary can apply online soon. See www.theiet.org