News 2011
Athena SWAN Bronze Award
August 2012: The Department of Electronics has been awarded an Athena SWAN bronze award, becoming only the third Electronics Department to receive an Athena SWAN award.
The Athena SWAN Charter was launched in June 2005 as a scheme to recognise excellence in Science, Technology, Engineering, Maths and Medicine (STEMM) employment in higher education.
Any university or research institution which is committed to the advancement and promotion of the careers of women in STEMM in higher education and research can apply for membership.
Athena SWAN awards recognise and celebrate good practice on recruiting, retaining and promoting women in SET in higher education. Bronze departmental awards recognise that in addition to university wide policies, the department has identified particular challenges and is actively addressing issues.
The Department will be presented with the award at a ceremony on the 26th September 2012 at Queen's University Belfast.
Recording industry legends debate engineering in the studio.
July 2012 : Jez Wells hosted a debate at the Royal Academy of Engineering in London last week on the nature of studio recording and the extent to which it embodies engineering.
The round-table discussion, which was recorded and will form part of Jez's Is Recording Engineering? project, involved four leading figures from the recording industry: the Grammy and Gramophone award winning classical engineer Tony Faulkner; former executive director of the Association of Professional Recording Studios Peter Filleul; pop/rock engineer and producer Ben Hillier whose production credits include Blur, Elbow and Depeche Mode and Tony Platt who has worked as producer and engineer with acts ranging from Bob Marley and The Wailers to Iron Maiden and AC/DC.
Is Recording Engineering? is an eleven month project, funded by the Royal Academy of Engineering's Ingenious scheme, which aims to provide an up to date picture of the skills required for sound recording, how they match with public perceptions and aspirations and where these embody engineering. The project also involves David Beer from the Department of Sociology.
Quote: It was a fascinating discussion which went everywhere from accreditation of sound recording and engineering courses to some of the apparent disconnects that exist between those who work in recording studios and those who design the equipment that they use. To have these four people together, sharing their ideas on what sound recording and engineering are, was a unique opportunity to hear from the very cream of those working in the industry today.
Picture caption: Jez (far left) at the Royal Academy of Engineering with (from left to right) Tony Platt, Ben Hillier, Tony Faulkner and Peter Filleul.
Biologically inspired algorithms help to diagnose and monitor neurodegenerative diseases.
July 2012: Dr Stephen Smith and Dr Michael Lones recently installed new equipment to measure patients at the University of California San Francisco and the VA Medical Centers.
The ongoing collaboration with Dr. Katherine Possin and colleagues uses biologically inspired algorithms to diagnose and monitor neurodegenerative diseases, such as Parkinson's and Alzheimer's.
The technique is quick and easy to apply and has an accuracy exceeding 90%.
Prof. Martin Haardt has been appointed Honorary Visiting Professor
June 2012 : Prof. Martin Haardt, head of the Communications Research Laboratory at Ilmenau University of Technology, Germany, has been appointed Honorary Visiting Professor in the Department of Electronics, University of York.
Prof. Haardt is an internationally renowned expert in the fields of Signal Processing and Wireless Communications, who has pioneered a number of key techniques for multiple antenna systems such as precoding algorithms for multi-user MIMO communications as well as efficient multidimensional high-resolution parameter estimation techniques.
This appointment will strengthen the collaboration between York and Ilmenau University of Technology in Germany and the research undertaken in the Communications Research Group. Prof. Haardt will spend time doing research in the department, collaborating with international projects, and will continue to visit us on a regular basis.
Dr. Rodrigo de Lamare appointed visiting Professor at the Pontifical Catholic University of Rio de Janeiro
June 2012 : Dr. Rodrigo de Lamare is now Visiting Professor at the Pontifical Catholic University of Rio de Janeiro (PUC-RIO), one of the top universities in Brazil.
The position is funded by the programme Science without Borders of the Brazilian Federal Government, and is part of the project entitled Multiuser and Massive MIMO Techniques for Future Wireless Communications: Design, Algorithms and Applications in collaboration with Prof. Raimundo Sampaio-Neto from PUC-RIO.
Dr de Lamare will spend time doing research and teaching short courses at the Centre for Telecommunications Studies of PUC-RIO. The project will fund collaboration between PUC-RIO and York researchers, and scholarships for PhD students and postdoctoral researchers might be requested from the Science without Borders programme.
Recording of Molly's Soliloquy released on Audiobook
June 2012: A recording of Molly's Soliloquy from James Joyce's Ulysses, recorded in the Department's studios, has just been reissued by Naxos Audiobooks.
It was originally recorded and edited in 2003 by Jez Wells as part of a 23 CD box set which was the first unabridged audio recording of this classic text. It was released to celebrate 100 years since the book's publication and was nominated for a 'talkie' award.
Work by Jez Wells released on CD
June 2012 : Jez Wells has just completed post production work on Songs Now, a recording of new songs for baritone and piano made at the National Centre for Early Music last Summer. The CD will be released on Meridian Records, famed for their 'natural sound' recording philosophy, in July.
The One hundred Under 50
May 2012 : The University of York has been ranked eighth in the world and number one in the UK in new Times Higher Education world rankings of universities less than 50 years old. read more...
York Grand Tour 2012
Running from 31st May to 31st August 2012, free : The Audio Lab has two boards up in the City of York as part of the Grand Tour. Board 28 is about Damian Murphy's work on acoustic modelling. Board 50 is about David Howard's work on human voice synthesis based on magnetic resonance imaging (MRI) data.
IET Accreditation
May 2012 : The Department is pleased and proud to report that it continues to be fully accredited by our professional body, the Institution of Engineering and Technology (IET), up to the end of 2014 in all its taught programmes (except the MSc in Engineering Management for which it is not appropriate) following recent confirmation from the IET.
This means that the education part for Chartered Engineer (CEng) for BEng and MEng graduates and Incorporated Engineer (IEng) for BSc graduates is a simple tick box.
Professor David Howard on Channel 4 Series 'Hidden Talent'
Tuesdays at 9pm on Channel 4
How far can natural talent really go and what if it could change your life? Hidden Talent discovers people with extraordinary hidden talents they never dreamed they had.
Hundreds of randomly selected people are put through a series of tests to identify those with hidden abilities and nine participants discover if they can go from being a total novice to a top-class performer in record time.
Presenter Richard Bacon follows their progress, uncovering the amazing science that enables these individuals to achieve what others can only dream of.
For more information, please visit: http://www.channel4.com/programmes/hidden-talent/
Dr Steven Johnson joins the Department of Electronics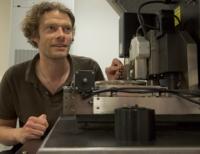 April 2012 : Dr Steven Johnson has joined the Department as a Lecturer in Electronic Engineering.
His research is focussed on the integration, detection and manipulation of biological materials, such as DNA and proteins, with nanoelectronic devices.
The ultimate goal is new hybrid technology that merges the functions and properties of biological systems, such as chemical synthesis, mechanical motion and molecular recognition with the abiotic world of electronics.
This highly inter-disciplinary research will be housed in the newly refurbished Biomolecular Electronics research laboratory located within the department that contains molecular biology facilities and state-of-the-art electronic characterisation tools.
PAnDA: Programmable Analogue and Digital Array
April 2012 : Dr Martin Trefzer and Dr James Walker along with Prof Andy Tyrrell are members of the EPSRC funded project PAnDA: Programmable Analogue and Digital Array which focuses on novel mechanisms and techniques to reconfigure devices and to produce variability tolerant architectures.
Initial architecture designs are now being finalised and the project is receiving interest from a number of external sources.
One example of this is the recent article published in 'New Electronics' in April this year.
As the article points out, the design of the new architecture is progressing well and the first silicon should be available in October of this year.
York Academics Co-organise International Conference on Information Processing in Cells and Tissues
March/April 2012 : Members of the Intelligent Systems Research Group recently co-organised the 9th International Conference on Information Processing in Cells and Tissues (IPCAT 2012), held in Trinity College, Cambridge from 31st March to 2nd April 2012.
This unique event brings together researchers from biology, physics, computer science and engineering who are interested in modelling the processes that take place within biological cells and tissues.
Dr. Steve Smith was General Co-chair, Dr. Michael Lones was Programme Chair, and Dr. Martin Trefzer and Dr. James Walker were Publicity Chairs.
For more information, please visit www.ipcat2012.org
Managing variability - making good chip designs even better
February 2012 : ngenics, a University spin-out company, launched its new MOTIVATEDtm automated and scalable, multi-objective cell design technology platform.
Chip designers are always looking for ways to improve power, speed, density and yield. This has never been easy but now that integrated circuits are approaching the atomistic level, intrinsic variations are becoming more abundant, leading to lower production yields and higher failure rates. It's getting harder all the time.
The ngenics team (Prof Andy Tyrrell, Dr James Walker, Simon Bale and Dr James Hilder) integrates state of the art evolutionary design methodologies with intimate knowledge of the challenges of the semiconductor industry, to help make good designs even better.
MOTIVATEDtm optimises standard performance measures such as speed and power, as well as addressing the issues of variability. Built on multi-objective bio-inspired algorithms, variability models, circuit simulators and high performance computing, MOTIVATEDtm generates multiple designs that are optimal across a number of parameters (e.g. best for delay and best for power, all variability aware, in one design execution). MOTIVATEDtm is automated and highly scalable, the degree of optimisation is determined by the number of design generations explored and driven solely by the CPU hours applied.
Anniversary Research Lectureships
March 2012 : Following the success of our recent 50th Anniversary Chair and Reader appointments, the University intends to create up to twenty new Anniversary Research Lectureships. These posts are aimed at providing outstanding post-doctoral researchers with an opportunity for an extended period of research and a permanent career path.
Anniversary Research Lecturers will spend a three year period establishing a strong personal research profile, followed by a transfer to an established academic post, comprising teaching and research.
Applications to the Department of Electronics are welcomed from candidates whose interests are aligned with one of the Department's research groups, details of which can be found at: http://www.elec.york.ac.uk/research/research.html
Prospective applicants are welcome to contact the Head of Department, Professor David Howard.
Application Deadline: 22nd March 2012. - For more information, and how to apply, please visit: https://jobs.york.ac.uk/
Professor Mohamed El-Gomati award OBE in Bew Years Honours List
January 2012 : Professor Mohamed El-Gomati was made Order of the British Empire (OBE) by Her Majesty the Queen in the 2012 New Year's Honours List for Services to Science.
The Department is extremely proud that Mohamed's achievements in Surface Science and Electron Optics have been recognised in this way.
This honour follows Mohamed's award of the Fazlur Rahman Khan award for Excellence in Engineering, Science and Technology in 2009 and the Cosslett Award for 2008 from the Microbeam Analysis Society, USA.
Many many congratulations Mohamed.