Student Research Conference - first in Education
Posted on 29 June 2016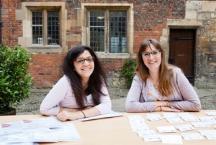 Education first and second year PhD students ran the White Rose Doctoral Training Centre WR DTC Educational Pathway research students' conference as an interdisciplinary event here at York.
On Friday 24 June, 14 paper presenters, 10 poster presenters and number of participants from universities of York, Leeds and Sheffield (the WR DTC) met at the King's Manor in the centre of York, to showcase and discuss each others' research. Presenters included masters and PhD students. The audience consisted of UG, PG and doctoral students as well as number of members of staff from departments including Education, Politics, English, Centre for Women's Studies and the Centre for Applied Human Rights. Presentations covered topics ranging from teaching and learning in the refugee context, socio-cultural theories of learning, and HE internationalization strategies, to behaviour management in schools, 'lad culture' in British universities and bullying.
The participants were joined by the keynote speaker, Dr Paul Wakeling from the Department of Education, University of York, who talked about the ethics of educational research. Dr Wakeling said: "It was a privilege to present alongside doctoral students from the White Rose university education departments and to hear about the exciting lines of research they are pursuing".
The responsibility for handing out of the certificates for all our presenters, and giving away the prize for the best poster presentation (María Ana Chavana Villalobos and Agata Lambrechts were awarded joint first place) was taken on by the Committee Chair, James Byas, a first year PhD student from the Department of Education.
Throughout the day, a number of opportunities were provided for participants to network and discuss their research in informal setting, which, coupled with the formal presentations, delivered a superb, memorable conference experience for all participants.
Professor Chris Kyriacou, the WR DTC Educational Pathway Coordinator for York said: "This was an absolutely excellent conference - and a great pleasure for me learn about the work of so many talented researchers based in the WR DTC."
One of the student presenters, Deak Kirkham said: "A big thank you for a really lovely and engaging day. Superbly organised throughout with many thought provoking presentations. Coming from a theoretical lingo background, I'm still coming to appreciate the range of depth of education research, and indeed the educational researcher mindset: today was another step along that road for me."
The conference was sponsored by the White Rose Doctoral Training Centre, the Graduate Students' Association, University of York and the Department of Education, University of York.