The fear of having to make new friends never prevented my decision to continue to study here for my postgraduate studies. I knew from experience that the University of York is a great and supportive university. This is one of the main reasons why I stayed as I knew I would be well looked after.

Megan, MSc Biomedical Sciences. Read more on Megan's blog
One of the things that drew me to study at York was the fantastic facilities available to us in the labs. It really felt like I would be getting the best possible experience with practicals and they were certainly a step up from anything I had seen at school!

Emily, MSc Biotechnology. Read more on Emily's blog
Support
As a postgraduate taught student, lots of things will be new. You are starting a new course and may be new to the city or country. But there is lots of relevant support available to postgraduate taught students (PGT) here such as:
Check out our support page for more detailed information on the support you can access during your time here.
For questions about the course you can contact your stage coordinator, programme lead or academic supervisor. The department will place you with a personal academic supervisor for your studies. We will arrange for you to meet your supervisor early in your first semester, and they will remain with you throughout your time here.
Your supervisor is there to help and advise you on all aspects of life at university, from your academic progress to general pastoral guidance. Find out more about supervisors.
For module-specific questions, the module organisers and staff teaching on the module are a good point of contact. You can talk to them during teaching sessions, or use the discussion boards on the Virtual Learning Environment.
Another form of support is your fellow students on the course. They're in a very similar situation to you. Reach out to others if you're struggling, they may be able to help you understand the course content, or may even be struggling themselves! You will have plenty of opportunities to get to know your peers well, not least through group work in mixed cultural teams that will be carried out as part of the course.
What support is there for a postgraduate taught student?
Postgraduate student community
Not only will you be able to socialise with those within the Department, another great source of support and fun will be all the other postgraduate students within the University!
The University has a very active Graduate Students' Association (GSA), with the aim of providing a social community specifically for postgraduates. You will automatically be a member of the GSA when you join us at York. The GSA is run by postgraduate students, and they organise regular events, trips and activities for postgraduates to help you build social connections. They also represent postgraduate interests and views on a variety of university committees, provide academic and welfare support and offer advice on all postgraduate matters.
The GSA has many different student networks, in which groups of postgraduate students put on regular events with a dedicated budget to make your university experience the best it can be. For a PGT Biology Student, the Masters Network may be a great place to start your socialising!
Find out more about the Graduate Students' Association
Wentworth is a dedicated postgraduate college so all events here are focused towards postgraduate needs. They organise events such as weekly socials, sports clubs, and workshops.
Learning, teaching and assessment
Learning and teaching during your Masters will be different to undergraduate learning.
The key difference on your Masters course is that you have fewer timetabled sessions than in previous courses. With this comes fewer contact hours and a lot more independent study. You'll be taught through a combination of lectures, seminars, tutorials and group work, working closely with academics.
Your independent learning will involve a mix of reading scientific literature, planning and carrying out group and individual projects, practising data analysis skills, and valuable skills training to prepare you for your laboratory research project.
The course is designed in this way to challenge you to think independently, take responsibility for your own learning, fully engage with your subject, and learn to manage your time well. You will be supported by world-leading academics and state-of-the-art facilities to provide you with the ability to succeed in the global workplace.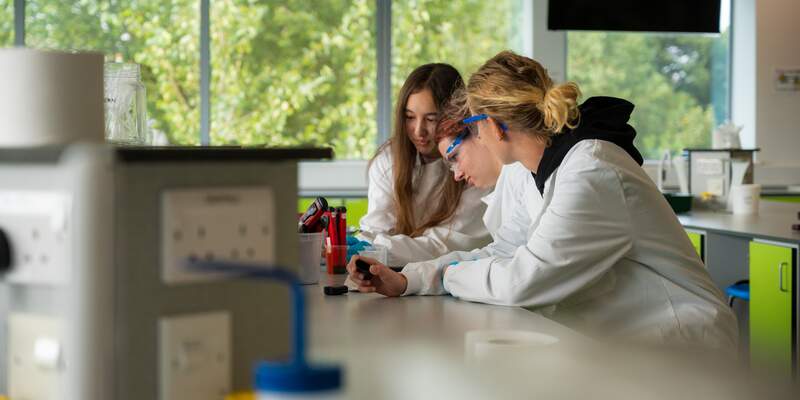 What exactly you are expected to do during your independent study time will become clearer once you have had your first teaching sessions, and please don't be shy to ask for support if you need it.
You will also need time to work on formative and summative assessments. You will be assessed in a variety of ways:
written reports

data analysis reports

oral presentations

group project work

poster presentations

your research project (which will be 50% of your final mark).
Research project
As you have a longer academic year as a Masters student, during the summer you will complete an independent study module - your laboratory research project.
The learning and teaching in your Masters will prepare you well for this research project. Your modules will give you the opportunity to practise skills needed for successfully carrying out a research project, such as working with scientific literature, analysing data, and working as part of a team.
You will also carry out a group research project in your second semester which will allow you to familiarise yourself with planning and carrying out a research project, collecting and analysing data, and presenting your work in the form of a project report.
Even though your individual research project is your own individual work, you still have support from your supervisor, other lab members, and your research team.
What is involved in a research project?