Workshop on autonomy and AI Safety-Critical Systems Symposium 2019
This event has now finished.
Date and time:

Monday 4 February 2019, 12pm to 5pm

Location:

Palm Court, Bristol Marriott Royal Hotel, College Green, Bristol BS1 5TA

Audience:

Open to The workshop is aimed at safety practitioners from all domains.

Admission:

Free admission, booking required
Event details
Join us at the Safety-Critical Systems Symposium 2019 for our workshop on autonomy and AI. You'll gain an introduction to robotics and autonomous systems (RAS), artificial intelligence (AI), and machine learning (ML), and discover the steps to assurance you will need to consider when employing them in your domain.
Draft agenda
12:00 until 12.30 – lunch in the Palm Bar
12:30 until 13:25 – Assuring autonomy in safety related systems – an introduction
13:35 until 14:45 – Assuring autonomy – technology overview
14:55 until 15:55 – Assuring autonomy – matching to 4+1 software safety principles
16:05 until 17:00 – Assuring autonomy – key issues and way forward
The AAIP is investigating assurance of robotic and autonomous systems in its Body of Knowledge using the Sense, Understand, Decide, Act (SUDA) model: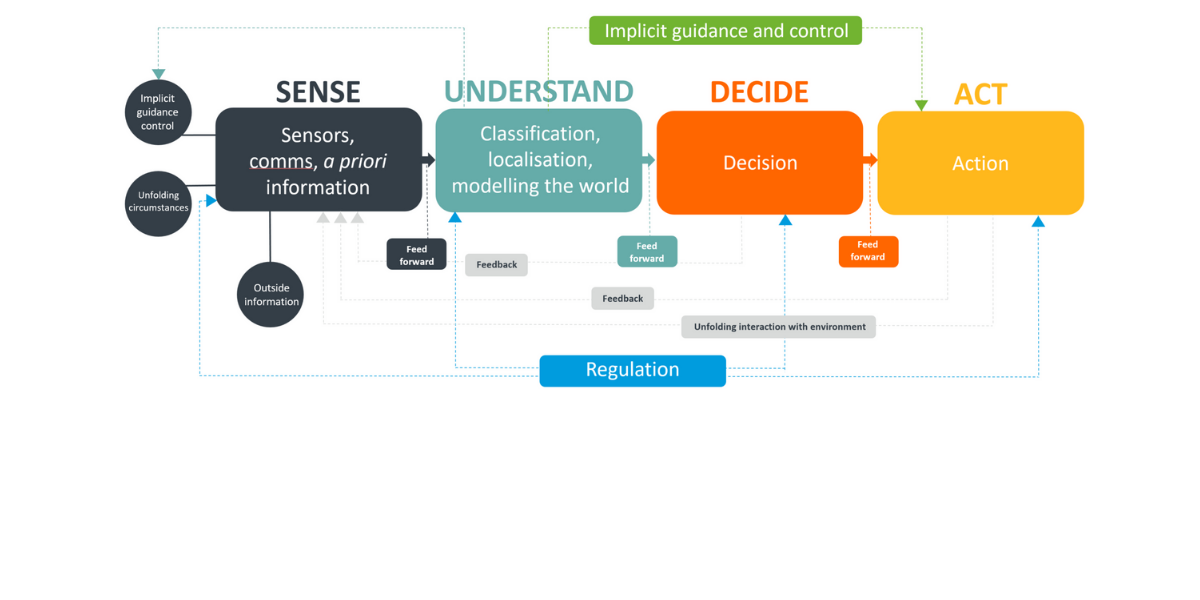 You will benefit from discussions about real-world examples from the Assuring Autonomy International Programme's demonstrator projects, as well as a neural nets familiarisation exercise that you will take away to progress further in your own time.
Lunch will be provided. When we confirm your place we will ask for details of any dietary or other requirements.
Please note that this workshop is offered for free as a benefit to delegates of the Safety-Critical Systems Symposium 2019. If you are no longer able to attend please email us on assuring-autonomy@york.ac.uk. If you do not give more than 24 hours notice we will invoice you a fee of £36 per person to cover our venue costs.
Workshop leaders - Dr Mark Nicholson, Dr Richard Hawkins and Nikita Johnson
Dr Mark Nicholson
Mark is a dedicated educator with over 20 years of experience developing and delivering industrially oriented teaching of staff involved in system-safety. He led the IET / BCS accredited Safety-Critical Systems programmes at York from 2004 to 2018. Dedication to education reaches beyond practice to developing the teaching and academic skills of colleagues at the University of York through involvement with professional development programmes as both supervisor and chair Board of Studies.
The education provided is highly industrially relevant based on research and consultancy activities, as well as best industrial practice. Mark was the European Editor of ARP 4754a Civil Aerospace safety recommended practice. He is currently working on a book on Data Safety Management, researching into the sense contribution to Autonomy, decision failure analyses and is the educational lead for the AAIP.
Dr Richard Hawkins
Richard Hawkins is a Senior Research Fellow in the Assuring Autonomy International Programme, where he is investigating the assurance and regulation of robotic and autonomous systems. Prior to joining the Programme he was a Lecturer in the High Integrity Systems Engineering (HISE) research group at the University where his research focused on the safety and assurance of software systems and the development of assurance cases. He previously worked as a Software Safety Engineer for BAE Systems and as a safety adviser in the nuclear industry.
Nikita Johnson
Nikita is a Research Associate on the Assuring Autonomy International Programme.