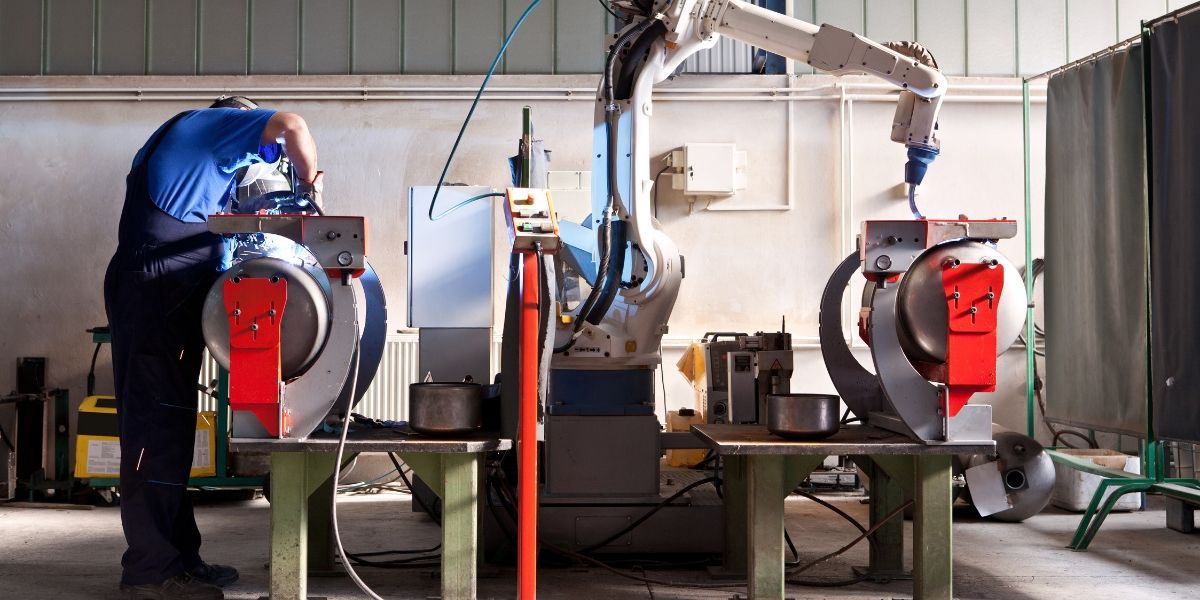 CSI:Cobot - towards regulatory change
Shaping regulatory change using novel approaches to cobot safety
The challenge
Phase 1 of CSI:Cobot demonstrated how novel safety techniques can be applied to build confidence in the deployment of uncaged cobot systems operating in spaces shared with humans. A challenge remains with the use of cobots that are increasingly mobile, and in regulating the use of such systems.
The research
In this phase of the project, the team will extend their methods to address the more complex safety and security issues posed by mobile cobots. They will work with the Health and Safety Executive to move their methods towards industrial application and shape regulatory change in relation to the use of novel approaches to robot safety.
The progress
The research is focused on a more complex case study involving a mobile cobot. The work began with an industrial co-creation workshop with seven partner organisations to better understand the challenges facing cobot safety assurance and shape research activity. The team conducted a wider survey of organisations to confirm their understanding that there is a need for tools and techniques to simplify or automate the process of developing and assuring complex processes.
The team is developing a digital twin framework, in collaboration with the EPSRC/ATI DTHIVE Project. They collaborated with the AMRC to develop a ROS interface to control various robots at Factory 2050. A digital twin was used to support the development of an IDS, which uses the output behaviour of the robot to identify any abnormalities. The team also identified the potential for digital twins to partially automate the generation of safety cases, and have been working with the HSE to develop a framework for this within their own environment.
The team released a library that provides building blocks to interact with the digital twin and analyse the behaviour of a system. Refinements to the operator behaviour and model in the digital twin have improved collision detection and introduced static obstacle avoidance for the operator.
With the regulator, the team is developing an approach to help identify hazardous occurrences using the digital twin, and implement a rule-based system that can automatically identify some safety-relevant situations from the system description.
Recently, the team have drawn heavily on the knowledge and resources of industrial partners:
project staff have worked at the AMRC's Gear Centre and have begun to create a twin of this in parallel with a safety controller. Using the ROS interface, the team has undertaken initial integration with the iAM-R robot, and demonstrated several robotic process elements at the Gear Centre.
the sensing team used a production cell at Teconnex to gather real-world data on a variety of scenarios. This, along with data collected from the team's laboratories and simulation platforms has been curated into public datasets to support further research and reproducibility. An automated annotation tool to support the labelling of images and videos for the training of vision systems has been released (view annotation tool on GitHub).
Iconsys have discussed the risks and challenges associated with existing iAM-R applications with the regulator, who will use the information to inform the new ISO standard on industrial mobile robots.
The team is now working towards the final demonstration, refinement and completion of Body of Knowledge contributions, and a joint workshop with the HSE on the safety of mobile robots.
Presentations and papers
Gleirscher, M., Calinescu, R., Douthwaite, J., Lesage, B., Paterson, C., Aitken, J., Alexander, R., and Law, J. "Verified synthesis of optimal safety controllers for human-robot collaboration" in Science of Computer Programming (April 2022).
Eimontaite, I., Cameron, D., Rolph, J., Mokaram, S., Aitken, J.M., Gwilt, I., and Law, J. (2022). "Dynamic graphical instructions result in improved attitudes and decreased task completion time in human–robot co-working: An experimental manufacturing study". Sustainability, 14,3289.
Zhang, J., Wang, S., Wang, P., Mihaylova, L., and Law, J. "A vision data repository for human-UR10 robot interactions in manufacturing" (2022).
Wang, S., Zhang, J., Wang, P., and Mihaylova, L. "Semi-automated labelme, a deep learning based annotation tool" (2022).
Douthwaite, J. A., Lesage, B., Gleirscher, M., Calinescu, R., Aitken, J. M., Alexander, R., and Law, J. "A modular digital twinning framework for safety assurance of collaborative robotics" in Frontiers in Robotics and AI, 8.
Almohamade, S. S., Clark, J. A., and Law, J. "Mimicry attacks against behavioural-based user authentication for human-robot interaction" at 4th International Workshop on Emerging Technologies for Authorization and Authentication (ETAA), October 2021.
Lesage, B. "SASSI: Safety analysis using simulation-based situation coverage for cobot systems" presented at SafeComp 2021 conference.
Project team
And working with: