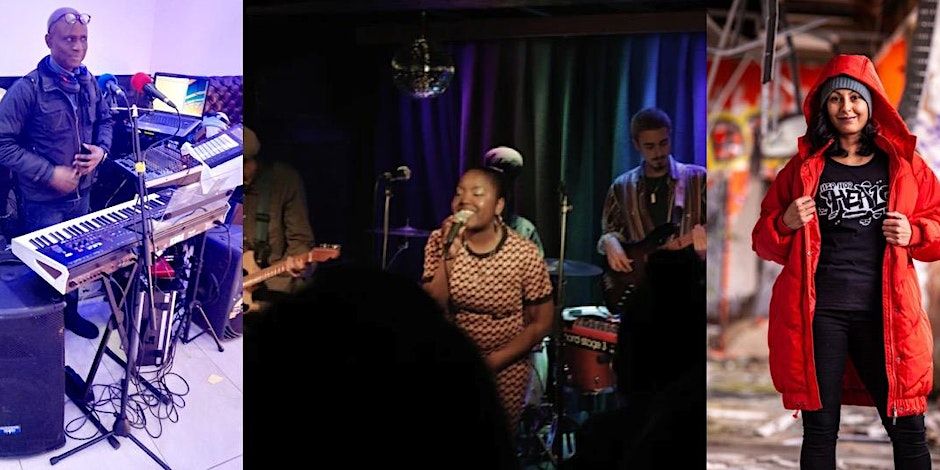 Music x Therapy x Technology
Talk
Workshop
This event has now finished.
Date and time:

Monday 5 June 2023, 12.45pm to 4.30pm

Location:

StreetLife Hub, Coney Street (Map)

Audience:

Open to the public

Admission:

Free admission, booking required
Event details
Three artist-scholars will engage you in learning about and joining in with Afro-beat making, AI songwriting and Therapeutic Hip Hop.
Schedule
13:00 - 14:00 — How Hip Hop HEALS: The Unsent Letter with Kiz Manley
Kiz will introduce the Glowitheflow podcast and take you on a journey through Hip Hop's healing powers. Her self-care workshop will help you access your Inner Mentor through therapeutic Hip Hop and a method known as 'The Unsent Letter'. This workshop will offer a safe space. All ages and abilities are welcome.
14:00 - 14:15 — Break
14:15 - 15:15 — Songwriting with AI with Kemi Sulola
With the rise of AI within the creative industries becoming more prominent, Kemi will discuss how it works, sharing its techniques and process as applied to music. Starting with a performance from the independent artist, she will then end the session with a chance for audience members to try out a website that runs generative AI algorithms. To get the most out of this session, please bring a charged laptop with you.
15:15 - 15:30 — Break
15:30 - 16:30 — Afro-beat making meets machine learning with Kola Ganikale
Kola's demonstration will give the York audience an opportunity to experience the sound of Afropop culture, with the introduction of the art to the York community in live performance. His presentation will appeal to non-academic and cultural interests, and it will entertain non-musical attendees who enjoy good music, as well as the young people or adults who may adapt the knowledge gained from the creative experience to their mode of musicality. The audience is encouraged to try out the tech to experience possibilities of therapeutic music making with technology.
Sandwiches and refreshments will be served.
Participants' skills
This series of workshops, funded by an Enhancing Research Culture grant for diversifying music technology, is open to anyone to attend.
To get the most out of the second session, it would be great to bring a charged laptop with you, and to have some familiarity with a digital audio workstation, but this is preferred and not required.
About the speakers
Kiz Manley
I set up Hip Hop HEALS, a mental health project that spreads knowledge and research about Hip Hop's therapeutic powers, in 2013. My MSc thesis on this topic applied narrative and poetic inquiry to interpret MC interviews (available on request: hiphophealsuk@gmail.com). I currently host and produce 'Glowitheflow' podcast on therapeutic Hip Hop, offering radical solutions to homelessness and mental ill health. https://www.hiphophealsuk.org/podcast.
Hip Hop HEALS challenges mental health inequalities in marginalised groups, particularly for Global Majority people; young people and men. Just before the pandemic began, I was selected for Lloyd's Bank's School for Social Entrepreneurs to develop Hip Hop HEALS into a social enterprise business, with a grant of £1000.
In 2022, we launched the world's first Trauma-Informed Hip Hop Training Academy online, with funding from The Baring Foundation, an arts and health equalities charity. We developed our mental health resources using Hip Hop's central tenet: 'Knowledge of Self', through a process of community consultation; course piloting and external evaluation.
Today, we deliver poetry therapy-style recovery; intervention and prevention workshops in the community and offer training for helping professionals with therapeutic Hip Hop as the central mode of delivery.
Kemi Sulola
With a sound often linked to the golden era of RnB, the British soul singer and songwriter Kemi Sulola brings that feel-good and free vibe to her listeners. Her use of positive messages and emotive jazzy melodies have given her recognition through radio support, press articles and other opportunities. Now a studio owner and facilitator of topics such as songwriting, vocal lessons and performance, she is delving further into her sound through technology, collaboration and production. She performs around the UK and is currently working on various new music projects. Read more on www.kemisulola.com/kemi
Kola Ganikale
As a practitioner-scholar with decades of experience playing various colonial and traditional instruments in local Juju bands on the streets of Yoruba lands, Kolawole is conducting a PhD thesis to investigate the ways in which the cost of personnel and production of Juju music can be effectively reduced with technology.